Info Panel
The initial landing panel when accessing STRATUS MaaS is the Info Panel.
Account Name - Assigned to your instance upon initial provisioning. Cannot be changed.
Magento Template - Pre-configured Nginx server template. Is assigned based on the version of your Magento store.
PHP Version - Active version of PHP running in the instance.
Doctroot - The root directory in which the Magento store code is located.
Instance Type - Production or Development. Not to be confused with the production and development Magento modes.
Store SSL - The type of Secure Socket Layer certificate applied to the instance.
Varnish Status - Indicates if Varnish caching is enabled.
Elasticsearch Status - Indicates if Elasticsearch is running.
Sphinx Status - Indicates if Sphinx search is enabled.
Autoscaling - Indicates is Autoscaling is enabled.
Personalizing Your Environment
Customized names are helpful if you are managing many sites on STRATUS MaaS. Each environment can have its own name. You might label them according to purpose. For example, if you have 3 instances on our Pro plan, where one is the live site and two are for development, you might name them as Development, Staging, and Live.
Update the name from the Info page by editing the text in the Personalized Name box and clicking UPDATE
Your personalized names will then appear in your MageMojo account for easier reference.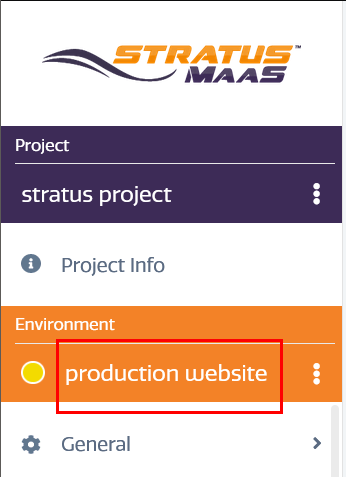 Switching STRATUS Environments
You can switch environments without going back to your MageMojo customer account dashboard:
Click the sub-menu (three vertical dots) to the right of your Instance name at the top of the left sidebar menu.

Click CHANGE.