RabbitMQ Configuration
RabbitMQ Info
You can view the status of RabbitmQ under the info section:

RabbitMQ Configuration
The RabbitMQ message broker service can be enabled in your stratus panel under RabbitMQ->Configuration. Please note this will redeploy services.
You can change the default username / password. These credentials much match the ones placed in env.php.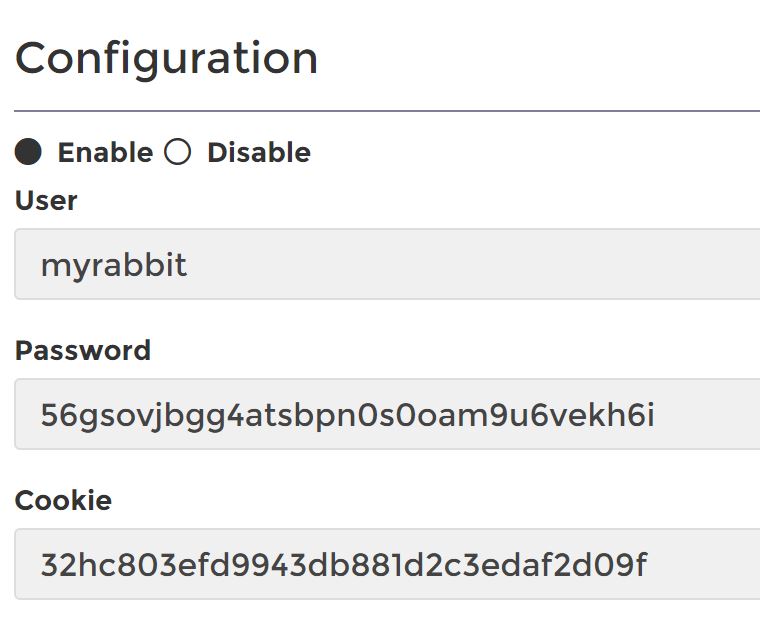 Below is an example configuration. Please note that on a production instance the host will be rabbitmq . On a development instance the host will be 0.0.0.0
'queue' => [




  'amqp' => [




    'host' => 'rabbitmq',




    'port' => '5672',




    'user' => 'username',




    'password' => '8b2sovjbgg4atsbpn0s0oam9u6vekh6i',




    'virtualhost' => '/',




    'ssl' => 'false',




    'ssl_options' => []




   ]




],




'cron_consumers_runner' => [




  'cron_run' => true,




  'max_messages' => 20000,




  'consumers' => [




    'async.operations.all',




    'codegeneratorProcessor'




  ]




]



To see a list of available consumers that you can set to run, please use:
php bin/magento queue:consumers:list